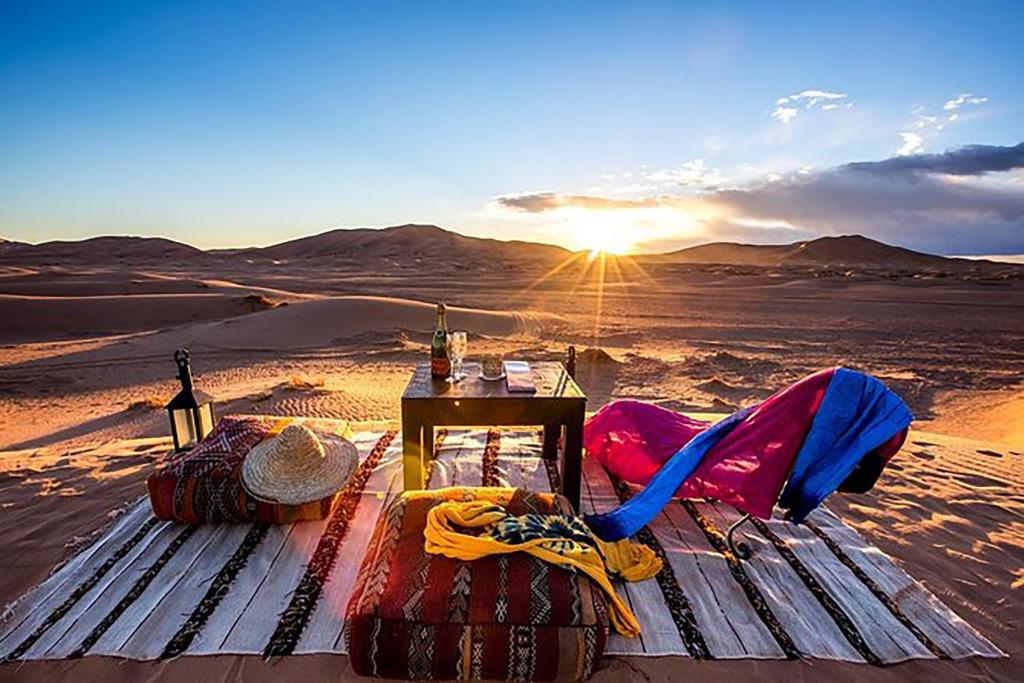 Morocco Vacation Spots, Morocco Tours, Morocco Vacation, Morocco Events Planning, Morocco Sahara Tour, How to Travel in Morocco, Marrakech Morocco Attractions, Day Trips Marrakech Morocco, Morocco Tour Guides, and Marrakech Morocco Tourism.
Morocco Imperial Cities
Morocco has 4 imperial cities, Marrakech, Rabat, Fez, and Meknes. You will be able to include them all when Visiting Morocco on any of our Morocco Tours, but there is no need to spend the night in all of them if you do not have enough time and wish to dedicate some nights to other exotic parts of Morocco, 2 nights in Fez and 2 in Marrakech would do, at the same time, you can do Rabat and Meknes on a day trip while traveling between destinations. But if you do have extra time, it will be nice to spend a night in Rabat or Meknes, or in Both.
Fez
| | |
| --- | --- |
| | Fez is a northeastern Moroccan city often referred to as the country's cultural capital. It's primarily known for its Fes El Bali walled medina, with medieval Marinid architecture, vibrant souks, and old-world atmosphere. The medina is home to religious schools such as the 14th-century Bou Inania and Al Attarine, both decorated with elaborate cedar carvings and ornate tile work. It's well over a thousand years old and has the "largest car-free zone" in any city in the world due to its narrow cobbled streets. Your competition is donkey carts (watch your step!) and hawkers of cookies and sweets. |
Marrakech
| | |
| --- | --- |
| | Marrakech, a former imperial city in western Morocco, is a major economic center and home to mosques, palaces, and gardens. The medina is a densely packed, walled medieval city dating to the Berber Empire, with mazelike alleys where thriving souks (marketplaces) sell traditional textiles, pottery, and jewelry. A symbol of the city, and visible for miles, is the Moorish minaret of the 12th-century Koutoubia Mosque. Marrakech is an ancient desert oasis in the middle of the country, nestled up against the High Atlas Mountains. Using Marrakesh as a base, you can explore the Berber villages up high in the mountains, or take a day trip to Essaouira on the coast, or spend your days wandering the ancient market, called a Souk, to find your perfect souvenirs. |
Meknes
| | |
| --- | --- |
| | Meknes is a city in northern Morocco. It's known for its imperial past, with remnants including Bab Mansour, a huge gate with arches, and mosaic tiling. The gate leads into the former imperial city. The Mausoleum of Sultan Moulay Ismail, who made the city his capital in the 17th century, has courtyards and fountains. To the south, ruined Heri es-Souani is a vast structure once used as stables and for food storage. |
Rabat
| | |
| --- | --- |
| | Rabat, Morocco's capital, rests along the shores of the Bouregreg River and the Atlantic Ocean. It's known for landmarks that speak to its Islamic and French-colonial heritage, including the Kasbah of the Udayas. This Berber-era royal fort is surrounded by formal French-designed gardens and overlooks the ocean. The city's iconic Hassan Tower, a 12th-century minaret, soars above the ruins of a mosque. |
Hassan II Mosque
| | |
| --- | --- |
| | Hassan II Mosque is located in Casablanca. It took thousands of Moroccan artists a total of five years to build this detailed architectural masterpiece. It is big enough for 105,000 worshipers, making it one of the largest mosques in the world! I was awed. Most of the travelers do some of the Casablanca highlights including a visit to Hassan II Mosque then move on to the next destination. Nice to spend a night in Casablanca only if you had a long flight to rest for a day on your arrival, or if you happen to have a very early flight out of Casablanca. |
Volubilis
| | |
| --- | --- |
| | A world heritage site, the southernmost settlement during Roman times, Volubilis is one of the best-preserved (and least frequented) such ruins in the world. I found it empty of tourists, not built up, and open in a way that really lets you get up close and see the structures without being behind ten feet of barriers and jostled by crowds. Most of the city is still unexcavated so the site has a very raw feel to it. It's a lovely day trip from or on the way to Meknes and Fez. |
High Atlas Mountains & Berber Villages
The rugged and beautiful Atlas Mountains stretch over 1,500 miles, and rises in the west at the Atlantic Ocean, and stretches in an eastern direction to the Moroccan-Algerian border. At the Atlantic and to the southwest the range drops abruptly and makes an impressive transition to the coast and the Anti-Atlas range. When you are in Marrakech, you can see them as a giant postcard in the background. You will also travel through them when you are taking a Morocco Tour and including Marrakech, Desert, and Fez.

The range includes Mount Toubkal, which at 4,167 m (2.589 mi; 13,671 ft) is the highest in Morocco / North Africa and the second-highest in Africa after Kilimanjaro. The High-Atlas Mountains are inhabited by Berbers (Native Moroccans), who live from agriculture and pastoralism in the valleys. Some of the best Berber villages are located at the Ourika Valley, Imlil, and Ouirgane Valley near Marrakech. That is something that you would want to include in your Morocco Private Tour when Exploring the country.
Sahara Sand Dunes
| | |
| --- | --- |
| | The magnificent Road of 1000 kasbahs, with palm groves and ruins from historic Saharan empires – a favorite set choice of Hollywood producers-leads us to Merzouga: the literal end of the road. On routes of Caravan traders, you travel to Bedouin bedding under the stars, nestled with the largest desert on earth when including the Sahara Desert Morocco Tour to your Holiday Destinations Morocco. capture the grandeur of the Sahara, textured earthen fortresses, and stylish Andalusian gardens with your lens. Offering the unique chance to meet with local photographers and capture landscapes that set Star Wars, Laurence of Arabia, The Last Temptation of Chris, and Gladiator, this tour leads through the many layers of Moroccan civilization, to match your level of experience with inspiration, serenity, and wealth of material. |
Dades & Torda Gorges
| | |
| --- | --- |
| | Both Dades and Todra Gorges are most recognized in the world and have become very popular with travelers looking for the best views, hiking the canyons, and are great for Climbers. The hike could be challenging but if you're looking for something truly different and outdoorsy in Morocco, don't miss out on this even for a drive for the breathtaking views. The Dades and Todra Gorges are often called " The Grand Canyons of Morocco". |
The Blue City
| | |
| --- | --- |
| | In the North of the country, nestled in the Rif mountains, and a short trip from Tangier is the small picturesque town of Chefchaouen. Founded in 1492 by Moorish exiles from Spain, the town is decorated in a mixture of whitewash and every shade of blue, from pastel sky tones to deep indigos. The effect is dreamlike, making this an extremely romantic place for a couple of days. |
Essaouira
| | |
| --- | --- |
| | The 60's music legends Jimmy Hendrix and the Rolling Stones were drawn to Essaouira's idyllic charm, which continues today to lure musicians and artists alike to the sparkling whitewashed fishing village trimmed with the brilliant azure of its skies. A former Portuguese settlement in the 18th century, its stone ramparts overlook an emerald sea where dolphins sometimes frolic near the fringe of the silvery beach, and camels ferry passengers across fine sand. Dream on the beach, stroll through serene squares, browse artisan shops or the fish market, bursting with a plethora of fruit of the sea to be grilled to a succulent finish before your eyes. Top it your repast with the national drink of Moroccan mint tea and savor delectable French pastries at one of Essaouira's many charming cafes. |
Kasbah Ait Ben Haddou
| | |
| --- | --- |
| | Aït Benhaddou is a historic ksar along the former caravan route between the Sahara and Marrakech in present-day Morocco. It is considered a great example of Moroccan earthen clay architecture and has been a UNESCO World Heritage Site since 1987. |
Agadir
| | |
| --- | --- |
| | Agadir, a city along Morocco's southern Atlantic coast, in the foothills of the Anti-Atlas Mountains, is the capital of Agadir-Ida Ou Tanane province. A resort destination, it's known for its golf courses, wide crescent beach, and seaside promenade lined with cafes, restaurants, and bars. Agadir is often called the Miami of Morocco. If you were a Beach lover and have the time to spare, you may want to add a couple of days to your Morocco Tour. |
Taghazout
| | |
| --- | --- |
| | Taghazout is a fishing village on Morocco's Atlantic coast, north of the city of Agadir. It's known for its surf beaches. Killer Point is a powerful point break. To the south, La Source is named for the freshwater that bubbles up from the rocks. Anchor Point has barrel waves. Cafes and surf shops line the main street. Inland, Paradise Valley, on the Tamraght River, is a palm-lined gorge with pools and waterfalls |
Tangier
| | |
| --- | --- |
| | This major city in northern Morocco is located on the North African coast at the western entrance to the Strait of Gibraltar. The history of Tangiers is very rich, due to the historical presence of many civilizations and cultures. Almost 100 years ago, Tangier was considered as having international status by foreign colonial powers and became a destination for many European and American diplomats, businessmen, writers, and spies. Today it's a hip must-see city but only if you have plenty of time to spend in Morocco or if you were coming from Spain to Morocco through Tangier, otherwise, it will be o to skip. |
Tetouan
| | |
| --- | --- |
| | Tétouan is a city located in northern Morocco. It lies along the Martil Valley and is one of the two major ports of Morocco on the Mediterranean Sea, a few miles south of the Strait of Gibraltar, and about 60 km E.S.E. of Tangier. In the 2014 Moroccan census, the city recorded a population of 380,787 inhabitants. Tétouan is an old Jewish Town. |
Asilah
| | |
| --- | --- |
| | Asilah is a town on Morocco's Atlantic coast, south of Tangier. Its old town, or medina, is enclosed by well-preserved 15th-century ramparts and gates, built by colonial Portuguese. The medina is an art hub, known for its murals and Moussem Culturel International d'Asilah, an annual festival. Venues include the exhibition space Centre de Hassan II Rencontres Internationales and early-20th-century Palais Raissouni |
Taroudant
| | |
| --- | --- |
| | Taroudant is a charming city in the Sous Valley in southeastern Morocco. It is situated east of Agadir on the road to Ouarzazate and the Sahara desert and south of Marrakesh. The town is known as the "Grandmother of Marrakech" because it looks like a smaller Marrakech with its surrounding ramparts. |
Zagora
| | |
| --- | --- |
| | Zagora is a town located in the Draa River valley in the Moroccan region of Drâa-Tafilalet. It is flanked by the mountain Zagora from which the town got its name. Zagora's fame as a desert outpost remains indelible. The Saadians launched their expedition to conquer Timbuktu here in the late 1500s, and desert caravans passing through Zagora gave this isolated spot a cosmopolitan character. These days Zagora remains a trading post and meeting place, hosting a regional souq on Wednesday and Sunday and putting on a variety of lively festivals. |
Sidi Ifni
| | |
| --- | --- |
| | Sidi Ifni is a city located on the west coast of Morocco, on the shores of the Atlantic Ocean, with a population of 20,051 people. The economic base of the city is fishing. It is located in the Guelmim-Oued Noun region and Sidi Ifni Province. Its inhabitants are the Shilha from the Ait Baamrane ethnic group. Sidi Ifni is a city for romance and relaxation by the water. |