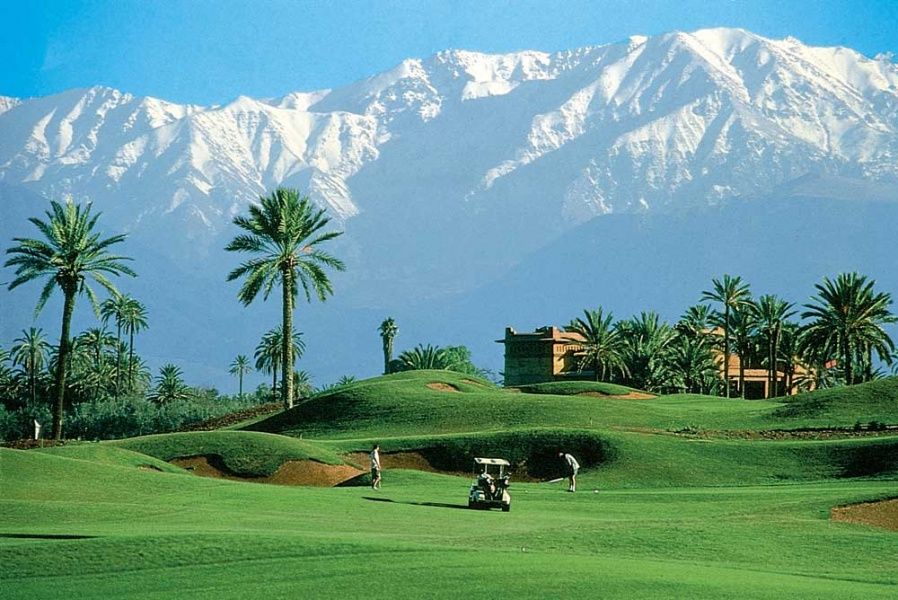 Morocco Golf and Desert Tour, Morocco Golf Holidays Holidays Marrakech Morocco, Morocco Tours, Morocco Culinary Journey, Morocco Sahara Tour, Morocco Vacation, Morocco Vacation Packages, Morocco Vacation Spots, Morocco family Holidays, Holiday Destinations Morocco, Morocco Luxury Tour, Morocco Family Tours, Morocco Travel Agent, and Holiday Deals Morocco.
The Morocco Golf and Desert Tour is one of our Best Guided Tours Morocco, including the best highlights of the country while golfing at some of the world-class golf courses of Morocco in Rabat, Fez, and Marrakech.  This is an amazing Moroccan Journey that is packed with the very best holiday destinations Morocco that includes the Imperial cities and camel ride and overnight in Merzouga Luxury Camp Morocco. Now, the experience can be yours. This Moroccan Journey is specifically designed to give the traveler the broadest sense of Morocco, its culture, people, geography, and cities. Be prepared for an extraordinary travel experience.

Contact Us / call us / WhatsApp us at (212) 925-6151 to Book This Custom Morocco Tour.

Morocco Tour for 11 Days / 9 Nights and can be customized with a private large car or luxury minivan and English-speaking Tour Leader according to your travel dates.
Day 1: Overnight flight from anywhere around the world to Casablanca

Please book your own flight, but if you need assistance, feel free to let us know. You can fly in and out of Casablanca or into Casablanca and out of Marrakech.

Air Travel Tips:
– Direct Flight out of JFK, and Washington Dulles International Airport (IAD) to Casablanca.  There are also flights between Casablanca and Montreal, Canada with: www.RoyalAirMaroc.com
– You can find a variety of Air Itineraries by visiting: www.cheaptickets.com
Day 2: Casablanca – Rabat
After your arrival to Casablanca, you will be escorted to start your Moroccan journey.

Casablanca's modern attitude and big-city edge make it today the most cosmopolitan of all Moroccan cities, a vibrant economic hub with the largest port found anywhere in the Maghreb. Some of the highlights we'll explore include the majestic Hassan II Mosque (the only mosque non-Muslims are permitted to enter in Morocco), the lively squares of Place des Nations Unies, and Mohammed V… hosting some of the city's most impressive architecture… followed by an hour ride to Rabat.

Entering Rabat's enormous Almoahad Gate to the Kasbah des Oudaias, situated on a bluff overlooking the Atlantic Ocean, you'll find magnificent views. Inside the gates discover artisan galleries, an ornate 17th-century palace now part of the Musée des Oudaia (Museum of Moroccan Arts), and the beautiful Andalusian Gardens near the famous Tour Hassan, a 12th-century minaret intended to be the highest and the largest in the Muslim world. Not to be missed in the Mausoleum of Mohammed V and King Hassan's stately official palace.

Dinner and accommodation at your charming riad in the ancient city of Rabat.
Meals Included: Dinner
Day 3: Rabat 
Golfers would enjoy a full day of golf at the Royal Dar Essalam Golf Course in Rabat.

NonGolfers will enjoy a tour of Rabat with your tour leader including Kasbah Loudaya, Chella, and the ancient city of Rabat.

A late afternoon for leisure.
You may want to have lunch at one of Rabat's nice French restaurants.

Overnight and breakfast at your charming Riad in the ancient city of Rabat.
Meals Included: Breakfast
Day 4: Rabat – Meknes – Volubilis – Fez
A ride past centuries-old olive groves and vineyards we near Meknes, the Ismalian capital, famous for its 25-mile-long walls – and, not to mention excellent wine – where we'll stop for a sumptuous lunch in a grand palace. Heading to port Bab El Mansour and Bab El Khamis, journey back thousands of years and explore the ancient Roman ruins of Volubilis sprawled over a wildflower-dotted hillside, where a magnificent triumphal arch presides over the awesome remains of palaces and mansions, Roman baths and basilicas, and stunning mosaics.

Sumptuous dinner and lodging at your charming riad in the ancient city of Fez.
Meals Included: Breakfast & Dinner
Day 5: Fez
Golfers would enjoy a full day of golf at the Royal Golf Course in Fez.

NonGolfers would have a full day to explore the ancient city of fez.
Fez is the holiest city in the Islamic world after Mecca and Medina. Founded at the beginning of the 9th century by Moulay Idriss II, and barely unchanged, this enchanting city has been a seat of government, philosophy, medicine, and most notably religion since then. Fez, the best surviving example of an ancient Arab city, is comprised of the "new" city, established in the 12th century, and the 2,000-year-old medina, where donkeys and mules laden with goods still trawl alongside buyers through the ancient market, itself a fascinating maze of lanes, blind alleys and bustling souks assaulting the senses with spices and exotic delicacies. Fez is the perfect place to hone your bargaining skills in buying souvenirs, brightly colored hand-loomed carpets, or fine crafted artisan goods. Visit the famous leather tanneries, a honeycomb of vats erupting in an explosion of brilliant color. Then, climb to the venerated Merenid Tombs for a spectacular panoramic view of Fez.

You may want to have dinner at the famous restaurant Maison Blue

Overnight and breakfast at your charming riad in Fez.
Meals Included: Breakfast
Day 6: Ifrane – Errachidia – Erfoud – Merzouga (Camel Ride and Overnight in the Desert)
A day drives through the Mid Atlas Mountains to the last city before civilization ends in that region… then you will switch into 4×4 for your Sahara experience.

Explore the mystical Saharan landscape as you ride by camel over the stunning sugar-fine sands of Merzouga as the red sun sinks. As night falls, listen to the heady intoxicating beat of Berber drum music and song during the traditional pouring of mint tea. Watch bread being baked in the sand, and delight in a Moroccan feast of harira soup, a savory tagine (stew with meat and vegetables) or couscous, etc…

At nightfall, You'll sleep under a nomad luxury Tent beneath flickering stars in the clear desert sky within our Merzouga Luxury Camp. Experience a sense of timelessness in the still, silent desert unchanged since caravans loaded with spices, gold and indigo crossed long ago. (Lodging is also available at Kasbah du Sud at the edge of the dunes.)

Good walking shoes are recommended.
Meals Included: Breakfast
Day 7: Merzouga – Todra Gorges – Tinghir – Boulman Dades – Kalat Megouna – Ouarzazate
After a special Berber breakfast, You'll depart for Todra Gorges, traveling the rugged Road of a Thousand Kasbahs that rise up like turreted sand castles along this ancient caravan trading route. This area has long been a popular location for Hollywood films such as The Last Temptation of Christ, Jewel of the Nile, and most recently Hideous Kinky. The central region is one of the most exciting and romantic destinations of Morocco nestled along rich river valleys, palmeries, and burnished mud-brick homes ablaze in vibrant color under the shelter of the blue desert sky. We'll travel through the Dadès Valley past dramatic escarpments and plunging gorges via Tinghir.

A stop at one of the rose cooperatives at Kalat Megouna, followed by a short drive to your charming Kasbah for some leisure in the Ouarzazate area.

Dinner and overnight at your charming Kasbah.
Meals Included: Breakfast & Dinner
Day 8: Marrakech
Morning special visit to the famous Kasbah Ait Ben Hadou, one of the world heritage sites before you continue your adventure along with the majestic beauty of the High Atlas Mountains, through the scenic route of Tizi n'Tichka's lush oasis valleys and mountainous areas highly popular with trekkers. You'll stop for a BBQ lunch at one of the Berber villages on your way to Ourika / High Atlas Mountains past a pageantry of fragrant, dense pine and cedar forests, terraced farms, and sienna mud-brick Berber villages to the exotic city of Marrakech for late afternoon leisure at your palace in Marrakech.

You'll cap off our journey at the dinner event of Fantasia as we bear witness to a splendid dramatic display of Arabian Nights filled with belly dancing, folkloric troupes, and stately Arabian steeds charging in dynastic battles as of yore.

Overnight and breakfast at your charming Palace in Marrakech Palm Groves.
Meals Included: Breakfast & Dinner
Day 9: Marrakech
Morocco's jeweled Imperial Cities, mystical Marrakesh. An enchanting palm oasis set against the snow-capped peaks of the High Atlas mountains.
Explore the ancient Bahia Palace from the days of the harem, now populated by a sentry of nesting storks, enter the ancient Madrasa Ben Youssef, explore the vibrant and historic Jewish Mellah where some of the best jewelry of Morocco is sold, and see the majestic Koutoubia Mosque before entry into the 9th century walled medina.

Traditional Moroccan dinner at the famous Stylia Palace from the 15th century at the ancient medina.
Accommodation and breakfast at your luxury hotel or riad in Marrakech.
Meals Included: Breakfast
Day 10: Marrakech
Golfers would enjoy a full day of golf at the Royal Golf Palace Course in Marrakech.

NonGolfers will spend a full day exploring this majestic Imperial City with their tour leader.

Late afternoon leisure at your palace.

Thrill in the bewitchery of the night that beats in the heart of the famed square, Djemaa el-Fna, where delectable fare is grilled over coals in bustling torch-lit open-air markets. Mystical snake charmers, hustlers, and mischievous monkeys are part of the nightly drama that unfolds, as Berber acrobats, fortune tellers, musicians, and engaging storytellers seduce rapt crowds. Then wind your way through the serpentine labyrinth of the spice-filled air of the bustling souk, unchanged for over 1000 years, where you'll discover the best of traditional Moroccan craftsmanship.

You may want to select a restaurant of your desire from our Top restaurants in Marrakech for dinner tonight on your own.

Overnight and breakfast at your charming Palace in Marrakech Palm Groves.
Meals Included: Breakfast & Dinner
Day 11: Marrakech or Casablanca
Transfer to Marrakech or Casablanca airport for your return home with plenty of tales of Arabian and Berber days and nights.
Meals: Breakfast

Note: If you would like to add 1 night or 2 at the charming city of Essaouira at end of the trip as a trip extension, please let us know!
Cost for Golfers:
USD 3090 per person based on double occupancy
USD 990 extra for single occupancy

Cost for NonGolfers:
USD 2590 per person based on double occupancy
USD 990 extra for single occupancy


What's Included:
* 4* & 5* Charming Riads, Kasbahs & Hotel lodging Combo
* Breakfast daily
* 4 dinners
* 3 days Golfing at world-class Royal Golf Courses / 18 Holes for Golfers (Rabat, Fez and Marrakech)
* 4×4 in and out of Merzouga
* Camel Ride for sunset in the desert
* Overnight luxury Tent in desert
* Private Transportation, Gas, Tolls & English speaking guide according to the program
* Transfers from Casablanca and to Marrakech or Casablanca airport
* Museums fee
* All taxes
* Transfer from and to the airport
* PCR Covid Test Appointment with the lab

Not included in package price:
* Airfare
* Travel Insurance
* Drinks
* Meals not included in the program
* PCR Covid Test ($60-$70pp)
* Tips
Everyone who took any of our Morocco Tours with us raves about it! When are you going to come and find out what the hype is all about?
Contact us here
Call or WhatsApp our New York Office at 212-925-6151
Or Book your Tour below